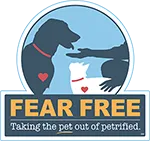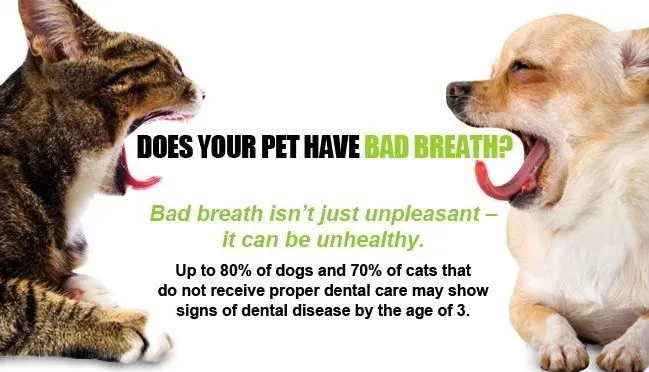 Dental care for pets is a critical part of your pet's well being, but it is a commonly overlooked component of pet health care. 85% of dogs and 70% of cats over 3 years of age have dental disease.
Dental disease is more than just bad breath, it can cause infections that pass through the bloodstream and affect the lungs, kidneys, liver and heart.
Apache Animal Hospital has veterinarians that have specialized training in dentistry. They perform routine cleanings and with the help of dental x rays, they can determine how healthy your pet's teeth and gums are.
Just like you, pets need routine dental care, both at home and with professional cleanings by the veterinarians at Apache Animal Hospital. Below is an outline of the steps involved with a professional cleaning.
Pre-dental exam: Every patient is examined by the veterinarian performing the dental cleaning the morning of the procedure. The doctor listens to the heart and lungs, checks the pulse and takes the patient's temperature. These things help assure your pet is healthy enough to undergo anesthesia.
Pre-anesthetic bloodwork: All patients undergoing anesthesia are required to have pre-anesthetic bloodwork performed. These tests show the doctor how the kidneys and liver are functioning since these organs are responsible for processing the anesthesia your pet receives.
Anesthesia: Gas anesthesia, called Isoflurane, is used to anesthetize your pet. This anesthetic is very safe and is well tolerated by most pets.
I.V. catheter and fluids: During your pet's teeth cleaning, we will place an intravenous (I.V.) catheter and administer fluids. This will help your pet maintain a normal blood pressure while anesthetized.
Teeth scaling and polishing: There are several steps involved in the scaling/polishing process. Scaling is the process where plaque and tartar are removed from the teeth. An ultrasonic scaler uses vibration to do this. Once the teeth appear to be free of plaque and tartar, a disclosing solution is applied to the teeth to show if any areas were missed. After all the plaque and tartar are removed, a periodontal probe is used to check each tooth for pockets. A pocket is formed when the gum tissue has become unattached to the tooth. Pockets can collect food and bacteria and lead to an abscess. After all teeth have been checked for pockets, the teeth are polished using a high-speed polisher. Both ultrasonic scaling and hand scaling create very small scratches on the teeth and the polishing helps smooth these scratches out. If teeth aren't polished, the scratches will attract plaque.
Fluoride: Next, fluoride is applied to each tooth. In animals, fluoride has been shown to aid in plaque prevention.
OraVet: The last step of your pet's teeth cleaning is the application of OraVet. This is a short-acting tooth sealant that forms protective barrier against plaque buildup.
Dental Radiographs (x-rays): Just like your own dentist, we take full-mouth digital dental radiographs so we can see what is going on below the gum line in your pet's mouth. We are fortunate to have a digital dental x-ray machine on site, as most veterinarians do not.
Before
Notice the yellowish-brown tartar on the teeth. This is an accumulation of bacteria and plaque.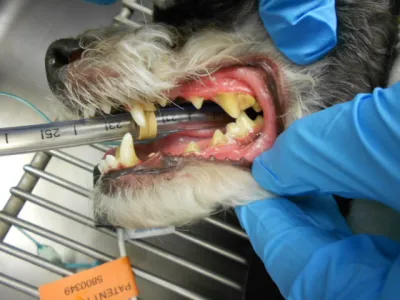 After
Notice the teeth are nice and white! The breath will smell better too!
Schedule your pet's dental cleaning today!!!! 612-781-2734.